Alpha CPS has a large modern fleet of 75+ service vehicles. All vehicles are easily identifiable wrapped in Alpha CPS corporate livery. Every vehicle has GPS tracking to verify route mapping, attendance, and for the safety of the members of our cleaning team.
Live updates of the GPS locations of all trucks and cleaning teams are available for viewing via the AOS online customer web portal. This promotes transparency and verification of our reliable and on-time delivery of services and ensures the safety of our employees.
Our large fleet of custom-built hot-water pressure washing trucks and vans provides Alpha CPS with large scale capability to use hot water extraction (HWE) with wastewater recovery. This is highly effective for cleaning carpets, hot water rotary pressure washing of tiles and grout, hot-water pressure washing of hard floors, concrete, exposed aggregate, bricks, and masonry.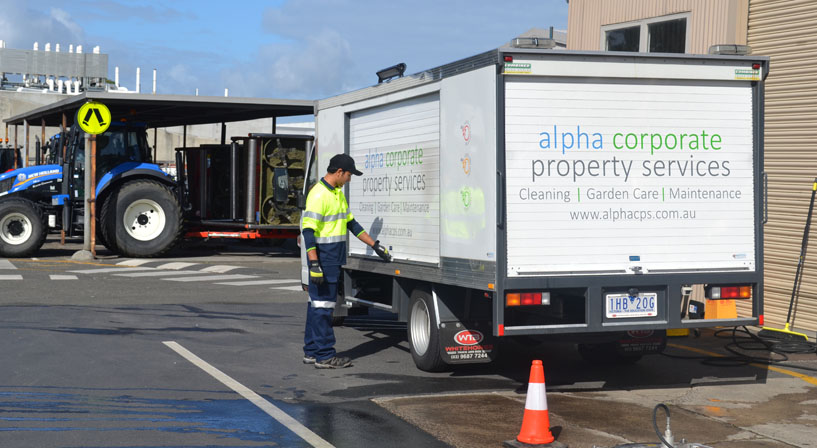 Alpha CPS self-deliver all of our periodic cleaning services. We have invested in custom-built trucks, vans and specialist equipment to ensure we have the scale and productivity. We can provide you with reliable, high-quality outcomes for all services, online inspection reporting, compliance, value for money and great customer service.
Specialist cleaning teams use large-scale equipment including service trucks to hot water pressure wash gum, oil, and grease stains from footpaths along retail shopping strips and outdoor community areas.
We remove graffiti from public spaces and buildings.
Hi-rise and basement car parks are cleaned from top to bottom. Scuff marks, oil and rubber residue are removed from car parking spaces, safety zones and line marking to make them easier to see and safer to use.
Manufacturing, vehicle servicing and maintenance workshop walls and floors are thoroughly degreased and cleaned.
Staff are fully trained and issued wok instructions based on specifications.
Our staff are fully supported by supervisors to achieve desired outcomes.
Staff have a distinctive uniform, photo ID, and our custom AOS mobile app to enable communication and protect the safety of staff working alone.
All staff hold a current Working with Children Check, Police check and are fully double vaccinated.